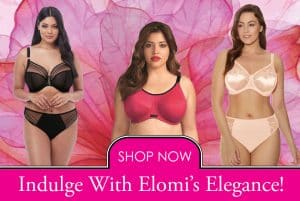 Here at aBra4Me.com, you will find only the best quality women's underwear delivered right to your front door with most items offering FREE SHIPPING! Featuring our Elomi bras and lingerie, Elomi gives you the freedom to express yourself with bold colors to vibrant prints. You have the power to do, say, or act however you choose. Elomi is all about confidence and yours shines through with the assurance of a superb fit and complete comfort. Because you are in control; you are beautiful!
Elomi features underwire bras and soft cup styles specifically made for full-busted women. From seamless t-shirt bras to active sports bras, the entire Smoothing collection, strapless style bras, and specialty bras, you can create the perfect bra wardrobe with Elomi. They feature beautiful prints and elegant trims to pair with almost all Elomi panties. Slip into the curve-hugging styles of Elomi, the brand that promises "beautiful lingerie for fuller the figure."
Take a look at the list of featured Elomi products found right here at aBra4Me.com: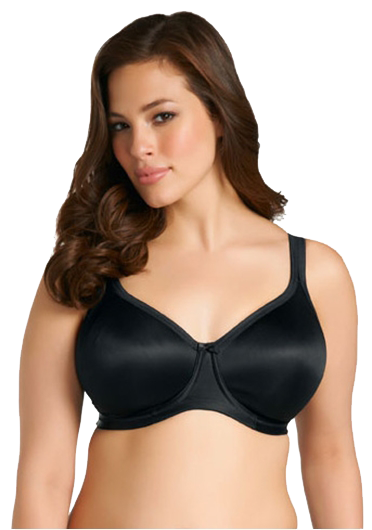 The seamless cups on the Elomi smoothing bra offer a smooth appearance with the utmost comfort. This bra features a Powernet back elastic providing optimum support and anchorage. The inside cup support panel provides added shape and lifts while the leotard back with two-to-three hooks and eyes allow for sleeker styling. Ideal for creating a flawless figure.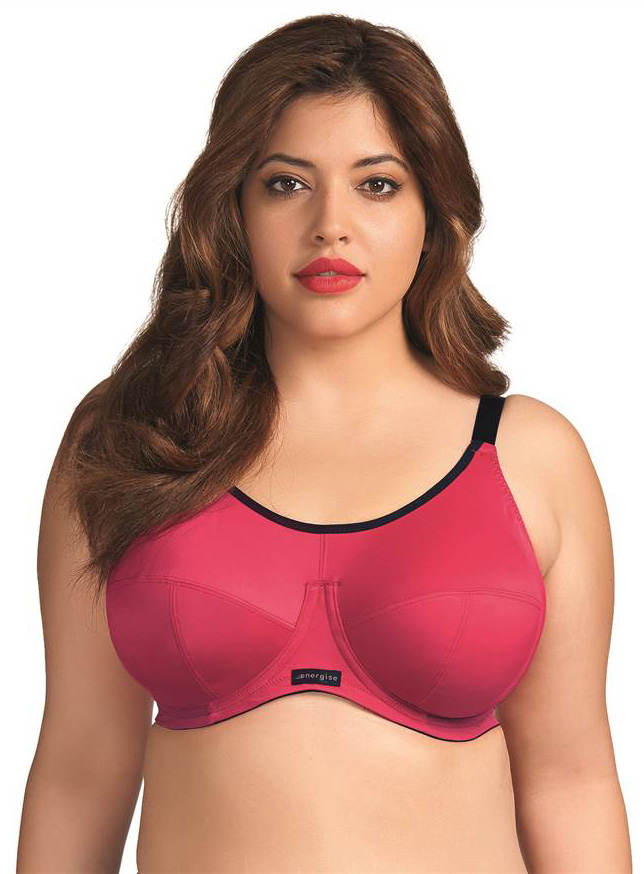 The wire finishes below the neck edge of this Energise sports bra offer a unique construction. This gives hold and separation for the most comfortable bust. The higher neckline offers great control and minimizes bounce for great everyday use. The microfiber bra material with premium moisture management wicks moisture away from the skin. It also offers J-hook fastening to make a T-back, ultimately hiding your straps.
Some of the features of the Elomi Energise sports bra include:
Three-section cups plus side panel for forward shape, good uplift, and separation.
The unique non-compression design offers bust separation, shaping, and ultimate support.
The J-hook fastener is moveable and allows back to be converted to a racerback.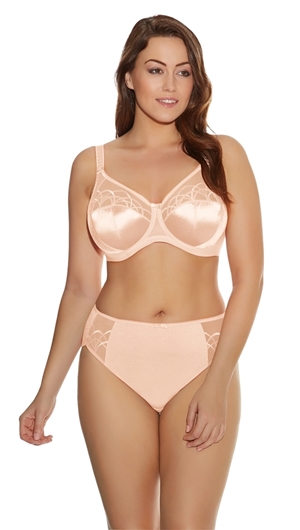 The Cate collection adds flair. This full cup banded bra offers side support for forward shape, complete with elegant embroidery. With elegant embroidery featuring intersecting arcs, grosgrain textured straps, and a pretty looped neck edge elastic, this collection is every bit as irresistible as its predecessor Caitlyn, but with improved fit, comfort, and support. Cate has a fresh new look with sheer embroidery featuring a stylish arch design.
This elegant bra from Elomi offers a variety of features for optimal comfort:
Uses the Caitlyn bra frame, but with a little of the excess fabric removed at the underarm, improving the support in the underarm area.
Three-piece cup plus side support panel for forward shape, good uplift, and separation.
The sheer embroidered top cup features a stylish intersecting arc design.
Embroidery has a special flattened finish to minimize show through.
Backstrap position moved in slightly compared to Caitlyn to prevent strap slippage.
Elasticated neck edge for ease of fit.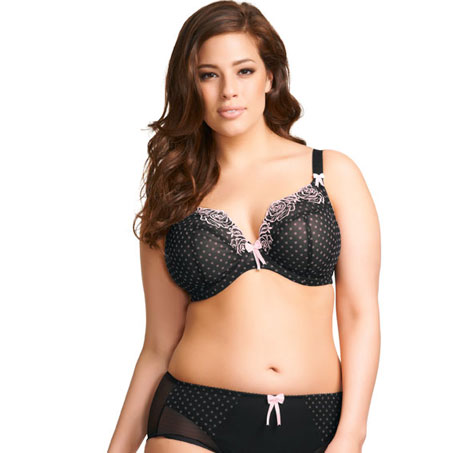 The side support panel for forward projection on this Betty underwire bra offers good uplift and separation. Low center on the bust offers plunge without push up and minimal bounce. It also features an elasticated neck edge for ease of fit with bottom cups are lined to look less transparent. Polka dot fabric decorated with satin stitches rose embroidery.
Order now while supplies last as this style is discontinued!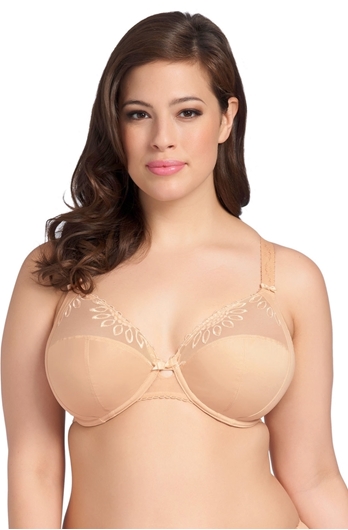 Created specifically for the petite bra frame, this Etta underwire bra features a smooth matte simplex, with a tulle top cup adorned with bold sunflower embroidery. Etta is the perfect everyday bra to make you feel gorgeous.
Order now while supplies last as this style is discontinued!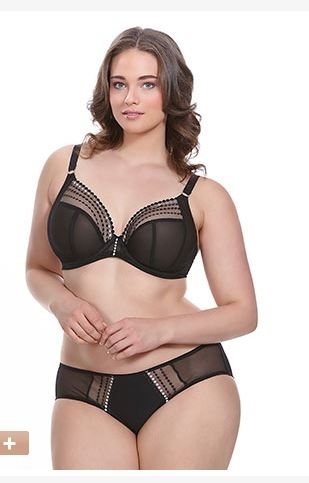 This Matilda underwire bra flaunts your curves with a new sheer plunge bra with embroidery that emulates rows of elegant beads, one of which is a contrast color. The collection boasts a contemporary edge with a silver ring detail to the straps at the apex.
New flexible back sweep construction allows easier adjustment to racerback.
The low center front gives a plunge without push up.
Three-section cups plus side panel for forward shape, good uplift, and separation.
Elasticated neck edge for ease of fit.
J-hook fastening is moveable and allows back to be converted to a racerback.
The Best Big Bust Bras with Elomi Products from aBra4Me.com!
Find great deals on Elila bras at aBra4Me.com. With free shipping on most items and orders $100 and above, aBra4me.com has the quality products here for you! For example, we carry Edith Lances bras (which minimize you by up to two sizes), Elila bras (longline strapless bras, rated as the #1 brand for specialty bras), Cortland Intimates/Venus bras, fully exquisite bras, and barely-there bras. You can also find the perfect Rago body shaper to give you the silhouette you want to get into shape this summer!
At aBra4Me, we believe that women should embrace their curves and treat themselves with high-quality bras and other lingerie items that make them feel and look their best. Order directly from our website or give us a call at (866) 227-2463. You can also reach out to us with any questions you may have through the contact form on our website.