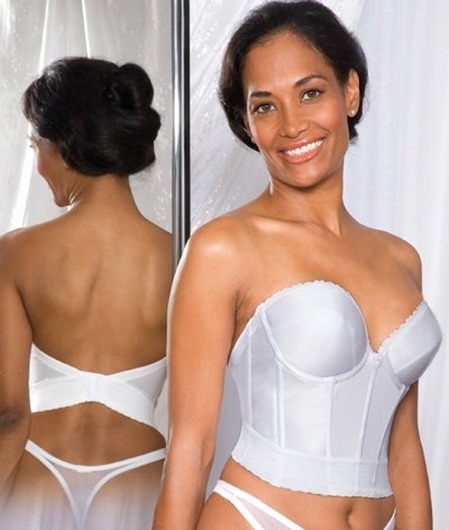 Now that you've said "Yes to the Dress!", you'll have to figure out what you want to wear underneath it — which is not as easy as it sounds.
With this day being one of the most exciting and important days of your life, we know you want to look stunning but also lifted, contoured and comfortable.
aBra4me.com is here to help you find the perfect bridal undergarments for your special day. Our expert attention to style will help you figure out the right undergarment for your dress.
The popularity of backless, strapless, deep-v, or otherwise skin-exposing gowns lend it more difficult to find a bra that won't show through when you're walking down the aisle, let alone moving around and dancing.
Even with that said, bridal undergarments are absolutely a personal choice. The most important factor is that you are comfortable in whatever garments you've chosen! We have compiled a variety of our top-sellers below so you can decide what's best for you.
If your dress is strapless, our most popular backless bra is the Carnival #203. This backless strapless bra hooks at the waist in the back, has cups lightly lined with fiberfill, is sleek and smooth with a sweetheart neck line. It is made of double-knit nylon and lightly lined with fiberfill and has
strategically placed front boning providing extra tummy control. It also has a 2" elastic waistband to prevent ride up.
The Carnival #206 is another backless strapless bra with an invisible plunge neckline. It is extremely smooth as it is made of silk microfiber. It has molded demi cups to create a sleek look even under the sheerest fabric.
Another we recommend is the Carnival #237 backless and strapless longline bra. It's tuxedo style, light lining in cups and deep plunge front and back give you the perfect contour and fit while providing that extra tummy control. It also has a 2" elastic waistband to prevent ride up.
Unlike most places, aBra4me.com.com is the place for the full-figured bride too. Our Elila 6621 and 6421 goes up to H cups and holds unparalleled in the market. They also have a covered bottom band to the hip for an invisible look.
aBra4me.com carries a variety of strapless bras to for your special day. Be sure to visit our Bridal Collections product page to find what's best for you. We also have body shapers, underwear, bustiers and other undergarments to suit your fancy.