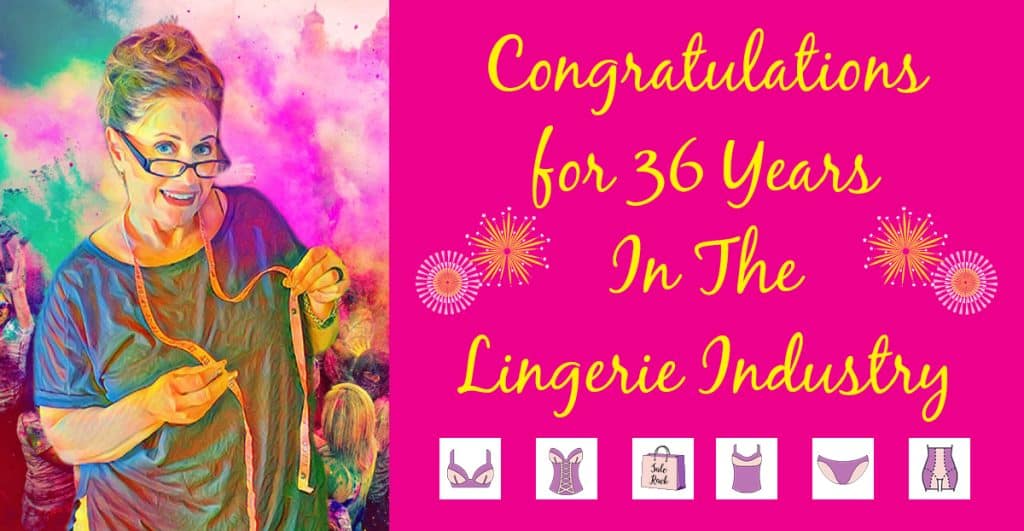 Jackie of aBra4Me.com will be celebrating 36 years in the lingerie business this month. We will be interviewing Jackie on the past, present, and future of the lingerie industry.
Jackie, what is your professional background?
I had one other job at 17 years old besides this so I can say I've been working at this for 36 years. I went to college while working and obtained 2 associate degrees from OCC in Business Administration and Liberal Arts.
How did aBra4Me.com come into formation?
I started working at Bra World in Troy, Mi a division of LuLu's Lingerie on 9/28/1985. I never wanted to work at a place called "Bra World" but went to an interview as a favor to my teacher as they kept bugging him for employees. The rest as they say is history. After graduating high school I was quickly promoted to assistant manager at a new location in Novi Mi. After a year I was promoted to manager and then a buyer for all 4 locations.
My bosses were always leaders in the industry and flew me back and forth to NYC and mentored me into a great foundation, sleepwear, and swimwear buyer.
On 8/20/21 we launched www.BraWorld.ws just before the attacks of 9/11. The nation was silent. It took a few months to get rolling and heal. On 7/18/2007 we changed the website name to match our phone number 866-a-Bra-4-Me (866-227-2463) and www.aBra4Me.com was launched. As of 2010 all 4 brick and mortar stores closing leaving just the website.
What major changes have occurred in the industry through the years?
The biggest change has been women's bra sizes. When I started in 1985 there was no such thing as a DDD cup bra.
Now we have 7 styles in M cups and 3 bras styles that are made up of an O cup!
Is there any event that has drastically affected the company in its journey?
The two biggest events were the attacks of 9/11 and recently Covid-19. When there is a crisis of any kind women tend to neglect themselves and put their families first. So, the first thing to neglect is garments that no one can see. It's easy to live with an old bra or holes in your underwear and sacrifice for your family. Even though online sales pushed the world through life during Covid-19 the foundation business suffered greatly.
We are still in the full effect of factories being shut down every time someone comes down with Covid to sanitize; fabric shortages and most recently worker shortages. So many factories have pallets of merchandise stuck on containers or can't obtain a container to ship products.
What were some significant challenges you've faced and how did you get past them?
There have been so many such as world events, industry changes, price mandating, new competition, and of course, Covid-19 that have all impacted small businesses including the lingerie industry. As each challenge arises, you need to take a breath and a step back, analyze the situation and overcome the hurdle one day at a time. Sometimes you come out better than you started and other times you just do the best you can. I also pray and know that GOD will push me through and give me the strength to work hard and strive for success. My old boss used to tell me there is room for everyone to just put blinders on and push forward. I can always hear her voice pushing me on!
How do you see the future of the industry?
I see more small companies going out of business or being bought by bigger companies only to be crushed and disappear. It's sad for me to see small businesses not rolling with the times and viable.
The "online" wave is swift and fierce. It takes a strong person to see changes and adapt.
I can also see more size extensions. Finally, we are seeing bigger sizes to meet the demand and more fashionable styles.
Feel Your Most Confident and Comfortable This School Year with Bras at aBra4Me.com!
Find great deals on Goddess bras, Elila bras, Exquisite Form bras, Cortland Intimates/Venus bras, Edith Lances bras, and more all on aBra4Me.com. With free shipping on most items and orders $100 and above, aBra4me.com has the quality products here for you!
At aBra4Me, we believe that women should embrace their curves and treat themselves with high-quality bras and other lingerie items that make them feel and look their best. Order directly from our website or give us a call at (866) 227-2463. You can also reach out to us with any questions you may have through the contact form on our website.