Edith Lances BrasWomen with large busts often struggle to find a bra that truly fits their needs. However, after purchasing their first Edith Lances bra, most ladies who require minimizing support from their undergarments never look back. Their search is over.
For well over 69 years, Edith Lances has been the go-to option for women who want a truly supportive, attractive, and well-crafted bra that is made to last. Believe it or not, any Edith Lances brazier can make the wearer look a full TWO cup sizes smaller. This feature alone expands your wardrobe options and allows you to feel more comfortable in the latest fashion trends.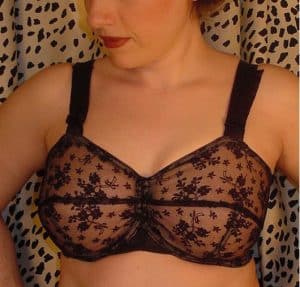 The Edith Lances Tradition Continues at aBra4Me.com
In addition, because they offer so much support, Edith Lances bras are great for migraine sufferers and anyone with back issues or chronic shoulder or neck pain. Also, because of their unique design and superb craftsmanship, undergarments from Edith Lances are comfortable to wear. They feature a unique one piece underwire that doesn't dig into your underarms. So, you can confidently wear your bra all day and into the evening without the annoying pulls and pinches commonly associated with other minimizer bras.
Rest assured, too, that all Edith Lances bras are proudly crafted in the USA by union workers, using USA parts exclusively. Of course, now, it is a little more difficult to find a reliable retailer with a full selection of Edith Lances bras. Luckily, though, for fans of Edith Lances who won't accept anything less than the very best in comfort and support, aBra4Me.com is your source for all things Edith Lances. They offer a huge selection of Edith Lances undergarments at unbeatable prices. And, right now, aBra4Me.com will give you free shipping on any Edith Lances order.
So, visit aBra4Me.com today to find your perfect bra for your active lifestyle. Started in 1985, aBra4Me.com has been helping women of all shapes and sizes find undergarments that truly fit their needs for well over thirty years. As a company, their goal is to help you find the support you need in a style that you'll love.