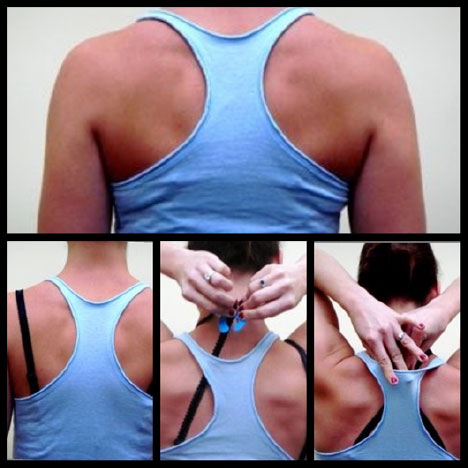 T-Shirt Bra
A t-shirt bra is a type of bra that boasts comfort. This bra style is usually seamless with molded cups to create a smooth silhouette under your tees.
T-shirt bras are of course great with t-shirts, but also great under any top whether loose or form-fitting. They are great for all breast shapes and sizes.
One of aBra4me.com's top-selling t-shirt bras is the Wacoal 85185 and is known for its comfort and smooth style. A few others to check out are the Wacoal 65124 and 65547 as well as the Elomi 8041.
Racerback bras
Racerback bras have a central strap or two crisscrossing straps that form the shape of a Y or V between the shoulder blades. This bra style is meant to boost support and distribute the weight more evenly along your shoulders and back.
The way the straps sit on the shoulder is more discreet than standard bra styles, so racerback bra types are great for wearing with cold-shoulder, tank tops or sleeveless tops and dresses.
They work well with all breast shapes and sizes, especially larger breast sizes that could use that added support.
You can make any bra a racerback with aBra4me.com's 5-Pack Strapper! It pulls in your existing straps and keeps them together and hidden from view of your Summer outfit. They also keep your straps from falling down. There is one of each color; nude, taupe, black, brown and white.
Stick-On Bra
A stick-on adhesive bra is basically a strapless bra without a band. It is pretty straightforward in the sense that you just stick them on your breasts for coverage and a tiny bit of support.
These are the types of bras you want when you want the coverage of a standard type of bra, and maybe even some cleavage, while wearing something backless or with exposed shoulders. If you just want your nipples covered, a stick-on adhesive type of bra will be your bra of choice
These are also good for all breast shapes and sizes.
aBra4me.com offers a few varieties of stick-on bras. Take a look at both of our Fashion Forms 16555 and 16846.
Strapless bras
Strapless bras are essentially that; bras without straps that just cover your breasts. They are usually chosen to accommodate skin-baring outfits and come in regular or longline versions, which may be called bustiers.
Since all the support of a strapless comes from around the band, you may want to go down a band size and up a cup size. Strapless bras are good for all breast shapes and smaller breast sizes.

You will want to check out aBra4me.com's Goddess 6663 as well as the strapless Carnival Creations 103 and the Carnival Creations 123.
When it's time to shop for your strapless lingerie, aBra4me.com will have just what you need for under all your tricky Summer pieces. Never fear, because we are just a click away and will help solve all and any of your bras problems.
Enjoy that weather!