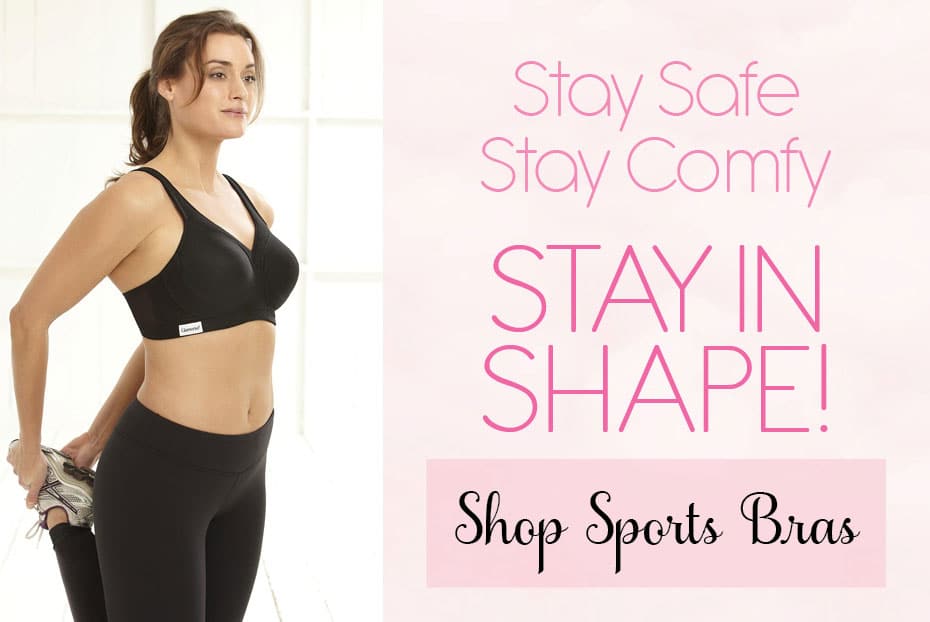 Amid all the uncertainty of the COVID-19 pandemic, we should be mindful of our own physical and mental health as we are beginning to find the light at the end of the tunnel. To help combat the stir-craziness of stay-at-home orders, going outside for fresh air and exercise helps give our daily routines some of that balance we crave. While you are jogging, biking, or doing yoga (with social distancing rules applied), remember to consider your own comfort while doing these activities!
Here at aBra4Me.com, we understand that comfort is one of the biggest concerns for women while exercising. The last thing you want to deal with is a loose bra distracting you from hitting your daily exercise goal. So, we're here to help! In order to stay fit and be comfortable while you're at it, check out this brief list of products below we think will serve you right!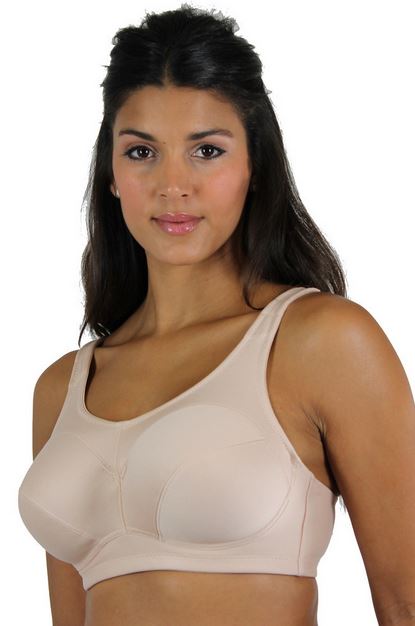 Lunaire #11111 Award-winning sports bra uses Coolmax fabric to provides superior support and wicks moisture away from the skin. Our innovative 'floating frame' underwire design limits bust movement and improves the support around the body. We wanted to make sure that this bra does not 'bounce' too much during high impact activity. 2-ply cups have a Coolmax lining to wick away moisture away from the skin to the outer layer where it can evaporate.
This comfortable sports bra features:
Coolmax eyelet cup lining provides moisture management and breathability
Innovative 'floating frame' underwire construction provides a snug fit during high impact activity
Fiber Content: Cups 100% Polyester, Lining 100% Coolmax Polyester
Back: 88% Cotton 12% Spandex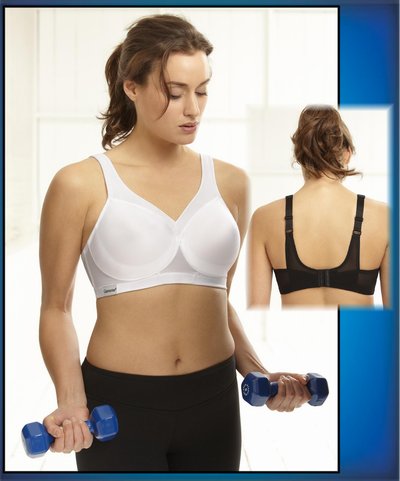 Featuring superior bust support, the wireless and seamless MagicLift non-stretch cups provide a great shape with bounce control and a smooth look under clothing. Its innovative fabric wicks away moisture for all day comfort with a breathable open mesh design. This product is the ultimate full-figure sports bra for the full-figured woman who's looking for a medium-to-high impact sport bra that still offers a natural shape that flatters inside and outside of the gym.
This product boasts a variety of features:
Patented MagicLift® no-wire design for support and comfort
Unique moisture-wicking fabric for quick-dry, next-to-skin comfort
Cushioned, adjustable, no bounce, nonslip straps for fit and comfort
Two-way stretch back designed for active use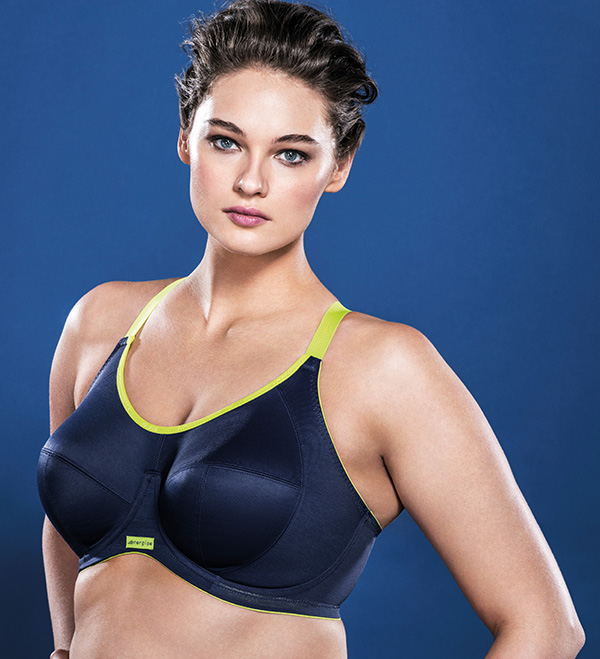 In a unique construction, the wire is situated below the neck edge of the bra. This gives perfect bust hold and separation. The higher neckline offers great control and minimizes bounce. Introducing our newest color: Navy! Red is now discontinued. Sizes 34G, 34J, 38K & 40G are now sold out. Please remember to use UK cup sizing if you are looking at the inside tag.
Here are some of the features for this product:
Three-section cups, plus side panel for forward shape, good uplift, and separation
Unique non-compression design offering bust separation, shaping, and great support
Microfiber resists moisture away from the skin
Moveable J-hook fastening allows back to be converted to a racerback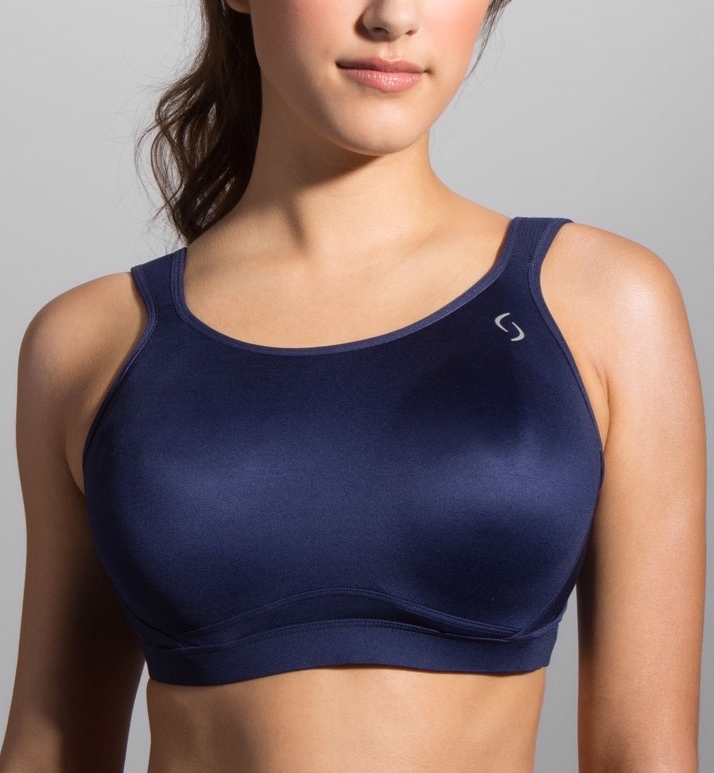 Get generous coverage in an underwired style that's built as two sports bras in one. The underwire supports each breast individually to ensure you look as great as you feel. The versatile, adjustable straps allow this Brooks sports bra to offer a superior fit for fuller-cupped women. Its material is soft to the touch and designed to feel like it's barely there while working hard on your daily workout routines!
Take a look at some of the key features of this product:
Molded cups for maintained shape while providing light modesty
Back-adjustable, gel-padded straps for an improved fit and enhanced comfort
Seamless underwire that supports each breast individually
Adjustable, soft-padded back closure for proper fit and support
Encapsulation and comfortable DRILAYER® compression fabric for less bounce
Our signature sweat-resistant fabrics are tested for comfort, performance, and durability. It is strategically optimized to keep you, the runner, performing at your best! Fasten all hooks and straps, place in a lingerie bag and use the gentle or delicate cycle on your washing machine. However, handwashing is ideal for this product. Always line dry, and never use dryer sheets or fabric softeners. These can clog the fabric and shorten the life of the bra.
Get Comfortable & Confident with Exquisite Sports Bras from aBra4Me.com!
Find great deals on fully exquisite bras at aBra4Me.com. With free shipping on most items and orders $100 and above, aBra4me.com has the quality products here for you! For example, we carry hard-to-find Edith Lances bras (which minimize you by up to two sizes), Elila bras (longline strapless bras, rated as the #1 brand for specialty bras), and shop products from brands like Cortland Intimates/Venus, Goddess, Bali, and our very own exquisite form sports bras here at aBra4Me.com!
At aBra4Me, we believe that women should embrace their curves and treat themselves with high-quality bras, exquisite form girdles, and other barely-there lingerie items that make them feel and look their best. Order directly from our website or give us a call at (866) 227-2463. You can also reach out to us with any questions you may have through the contact form on our website.